Element Church: Volunteer Of The Week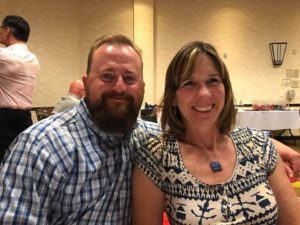 Hey Element Church! Meet Steve & Tolly, this week's Volunteers of the week. Steve & Tolly were nominated by Andy, our Associate Pastor of Assimilation, who said: "What I think sticks out to me the most about Steve & Tolly is their passion for discipling people in their small group.  Whether there are 10 people or 2 people, they love to help others grow in their faith."
Steve & Tolly have attended Element Church for 11 years and have served in the Living Room and as small group leaders. Their professions are teacher & investigator and they enjoy biking, flying, bee keeping and traveling.
When asked why they serve here at Element, they said, "It's the best! We love Element and want to help people connect and grow in their faith."
Steve and Tolly, we love YOU and are so happy that you are a part of the disciple making process here at Element. Your love for Jesus and commitment to see people follow Him is greatly appreciated. What you do MATTERS!