Element Church: Volunteer Of The Week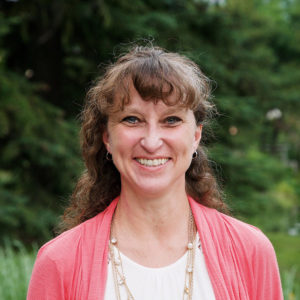 Hey Element Church! Meet Susan, this week's Volunteer of the week. Susan was nominated by Kat, our Groups Director, who said this: "Susan has led several different groups over the past few years and does a wonderful job! She currently leads a women's study and does so with great joy and enthusiasm. Susan is very receptive to her group's needs and has even gone so far as rebooting her study when the material just wasn't the right fit. She is pursuing Jesus and loves inviting others on the journey. We are so lucky to have her!"
Susan has been attending Element for 3 years with her husband, Court, her 2 at home children, Rebecca and Tyler as well as her college student Katie when she's in town. She is a Team Lead in the mailroom at Blue Cross Blue Shield WY and enjoys reading, playing with her dogs and simply hanging out with her family.
When asked why she serves at Element Church, Susan said, "I started serving because there was a need and I wanted to help. Serving also fills my heart; while on the greeter team, it was so fun to watch sour faces come in and happy faces come out. I remember my first time at Element; the greeters and volunteers in the lobby were so friendly and helpful. That sealed the deal for me. Nowhere have I felt more welcome; I want to give that same feeling to others who come through the door. And now, I get to play with kids and love on them while doing it – what a crazy good deal is that. In the women's Bible studies, it is so cool to see when God is allowed into a heart and they allow Love to speak. It truly does fill my heart."
Susan, we are so thankful you are on our team sharing the love and joy to others that first welcomed you. Thank you for all you do. IT MATTERS!