Element Church: Volunteer Of The Week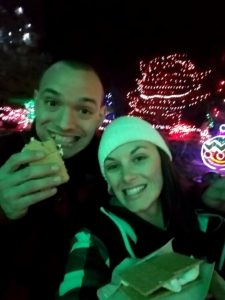 Hey Element Church! Meet Brittany, this week's Volunteer of the week. Brittany was nominated by Taylor, our Lead Producer who said this: "Brittany has been serving faithfully for 3 years now and has been a huge part of lights for our Sunday morning experience. She ALWAYS has a great attitude and always shows up on time and is as reliable as they come. She takes initiative to track down issues on her own and cares deeply about the quality of the Production."
Brittany has been attending Element Church for 3 years and is a USAF medic. She enjoys anything that gets her outside including hiking, snowboarding, and boating.
When asked why she serves at Element, Brittany said, "Growing up I was not raised in a church.  Element provides a much more accepting environment than I was accustomed to for me to get to know Church and God on my terms and not feel like I don't belong here. To me, that is what Church is about, and is supposed to be. Also I like everyone here, and being a technical theater geek is so much cooler then being in the band!"
Brittany, we are so honored that you found a home here and blessed to have you on our team. You aren't just pushing buttons as a part of our production team, you play a part in every person who experiences life, gets connected or makes an impact. What you do MATTERS!