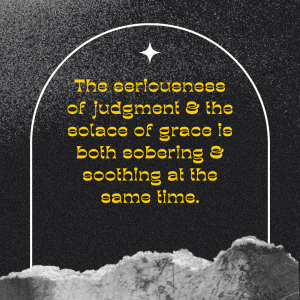 The seriousness of judgment and the solace of grace is both sobering and soothing at the same time.
Yesterday, as I was reading Scripture and spending time with God, I was stopped by one verse in the book of Numbers.
Let's be honest; Numbers can be a place where we often find ourselves skimming to get to the "good stuff," right? No? Just me?
In Numbers 20, the people of Israel were once again complaining to Moses about God not giving them water to drink. Complaining was a common theme among these wandering people of God.
God told Moses to speak to the rock, and water would come out, but Moses was angry. Moses had struck a rock before, at God's command, and water came out, so this time, he hits the rock in his anger.
Water does come out, but God is not pleased with Moses' response, and verse 12 says this:
Numbers 20:12 But the Lord said to Moses and Aaron, "Because you did not trust me enough to demonstrate my holiness to the people of Israel, you will not lead them into the land I am giving them!"
Wow! One disobedient act.
One outburst of anger.
One rebellious action and God's judgment was laid out; "You will not enter the land you've spent your life leading my people towards."
But I noticed while judgment was given, so was grace!
Water still came out. Even though the leader made a horrible mistake, God still provided for the people.
Even though the people never stopped complaining, God never stopped providing.
Even though Moses would not enter the Promised Land, the entire nation of Israel would.
In this one moment, we see the sobering seriousness of God's judgment and the soothing solace of God's grace.
I wrote in my journal: "Lord, I want to trust You! Help me, Lord! May we take seriously EVERY word You give and EVERY command. And thank you, thank you, thank you for your grace. I don't want to miss the land because I decided to disobey You!"
Yes, I can bring God's judgment upon my life with one act of sin, but also, yes… a RESOUNDING YES, my God is a God of abundant, overwhelming, and abounding mercy and grace!
Thank God for His grace!
The seriousness of judgment and the solace of grace is both sobering and soothing at the same time.