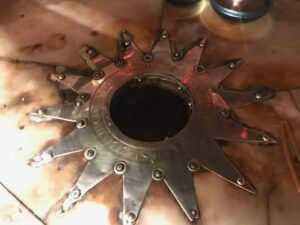 Register for an 11 day trip with me and my wife Sabrina to the Holy Land in March of 2022 HERE.
We are limiting registrations to 40 people, so don't wait too long. I'm praying we will fill that up. Full trip details HERE.
The marker pictured here is in a cave below the Church of the Nativity in Bethlehem where it is traditionally believed the virgin Mary birthed our Lord on the first Christmas Day.⁠
⁠
In Israel, many religions will debate over the location of historical events, but not the birthplace of Jesus. Every major religion and denomination agrees that this is most likely the place. Wow! ⁠
⁠
Todd Halvorson who was with me on a trip in 2019, said this about his experience at this site: ⁠
⁠
"With anticipation, we eagerly ducked into our destination; the very place where Magi were guided by a star, and where a virgin brought hope into the world. The very place where the God of Heaven humbled Himself to flesh and blood, the blood that would atone for all evil. After a moment of being alone with Jesus in the gathering, it was time to make our way to the next adventure. Upon our return, the tour guide asked me, 'Todd, did you touch the stone where Jesus was born?' All I could say was, 'No, it touched me'."⁠
⁠
"It touched me!" ⁠
⁠
I can't think of a better way to describe what being in Israel does for you than that. It touches you! It changes your faith and the way you read the Scripture. ⁠
On this trip, I'll be doing some teaching and study at some of my favorite sites and we have confirmed that we will be doing live worship as well at a number of locations!
The cost of the trip is $3,175 per person (plus airfare). The initial deposit is $400, with the balance due 100 days prior to departure. (All the details are HERE)
Faith-based Expeditions (touring company) will also work hand in hand with all registrants throughout the process to make sure that each person has all the information they need for the trip.
If you have any questions, please don't hesitate to reach out. Just email me at hello@jeffmaness.com⁠