Element Church: Volunteer Of The Week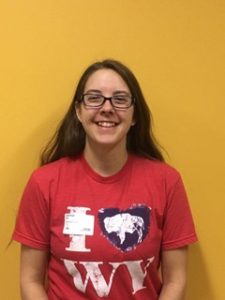 Hey Element Church! Meet Jamie, this week's Volunteer Of The Week. Jamie was nominated by Lesley, our e:kidz Ministry Assistant who said this: "Jamie has been an amazing asset to the e:kidz team.  Jamie serves as a leader in our Toddler room, and this room can be challenging and can often be filled with sad little ones who struggle with their parents dropping them off.  Jamie does an amazing job with calming their fears, getting them engaged with toys and activities and drying their tears.  Jamie has a sweet gentle spirit that instantly puts the little ones at peace while making them feel safe in a new environment and easing the parent's concerns of dropping off their children.  Jamie began serving in e:kidz this past April but she has quickly proven herself as an outstanding member of the team and has been eager to help where ever needed.  She is also interested in moving up into a leadership role and taking on more responsibilities.  I am so excited to see how God is going to continue to lead Jamie, and we are so thankful to have her as part of the e:kidz family."
Jamie has been attending Element Church for 10 months with her son Johnny who also serves in e:kidz and is an Assistant Manager at Brown's Shoe Store.
When asked why she serves at Element, she said, "I serve because I want to give back. I am always excited to see the kids and I love the day when it finally clicks and they have a great day and finally feel comfortable in the class."
Jamie, we love having you on our team.  Thank you so much for serving God through Element Church! What you do MATTERS!