Element Church: Volunteer Of The Week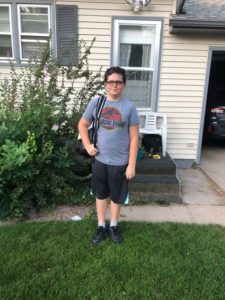 Hey Element Church! Meet Sabastian, this week's Volunteer of the week. Sabastian was nominated by Lesley, our Children's Ministry assistant who said, "He has shown incredible growth and leadership in E:KIDZ over this past year.  Sabastian is always excited to serve anywhere he is needed and he never hesitates to take charge and lead activities with the kids. Sabastian has been an incredible asset to our 6 pm Pathfinders classroom and he is such a great example to the kids he serves.  Sabastian thank you for all you do in E:KIDZ and for following God's calling to serve."
Sebastian has been attending Element Church for 7 years. He is a student and enjoys football and piano.
When asked why he serves at Element, he said, "I serve at Element Church because God sent me there for a reason. I looked at volunteering and I kept saying E:KIDZ, like the Holy Spirit was talking to me to go there and serve. I feel awesome because I meet a lot of new friends and it's awesome to be an inspiration to kids."
Sebastian, you are an inspiration to me! I wish I would have had a heart to serve like you do when I was your age. You are teaching us old folks what it means to serve God through the church. Thank you. What you do MATTERS!