Element Church: Volunteer Of The Week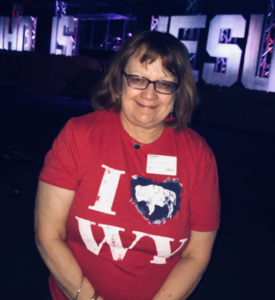 Hey Element Church! Meet Susan, this week's Volunteer of the week. Susan was nominated by Eiron, one of our Pastoral Assistants, who said this, "Susan serves on the Usher Team, Prayer team and Care team at Element Church.  She writes each person who submits a prayer request a handwritten note of encouragement, love, and support.  When people are in need of a visit either in the hospital or home, she is one of the people we can call on for that service. Susan has a heart for lost and hurting people. Susan, Element is so honored to have you on so many volunteer teams. We are honored to name you Volunteer of the Week. Thank you for all you do here!"
Susan has been attending Element for about 6 years. She first became involved with Element by donating school supplies for the very first back to school bash. Her grandgirls also attend church with her.  She is a paralegal for a small family law attorney and enjoys crafts, making her own cards and scrapbooking.
When asked why she serves at Element, Susan said, "Element is my church and I love it."
Susan, we love you and love having you on our team.  Your service to God through Element is impacting so many people's lives.  You are a part of people experiencing life and getting connected.  Thank you for what you do.  IT MATTERS!