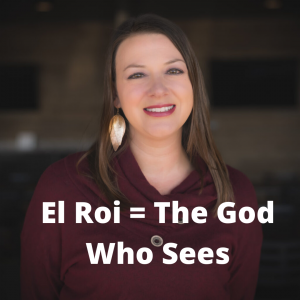 Recently, Sarah Hawk (pictured here), one of our E:KIDZ assistants at Element Church, gave a devotion at our weekly staff meeting. I thought it was so good that I asked if I could share it on my blog. Sarah not only is on our staff, but is a wife and a mother and most importantly, she loves Jesus! I hope you enjoy and are encouraged by this devo called, "El Roi -= The God Who Sees.
"I have the type of personality where I don't speak up or say much until I know someone very well.  I am not very outgoing.  Being this way makes it very easy to feel invisible.  Overlooked.  Not important.

Growing up my parents divorced when I was one year old.  My mom remarried multiple times leaving me with several former fathers.  Each time I finally felt comfortable with a stepfather, the marriage ended and I was left feeling thrown away…again.  

So when I first read about Hagar in the Bible and heard the meaning of El Roi, I was truly amazed.  I was struck when Hagar calls God, El Roi, the God who sees!  Years ago I did a devotional study called Lord, I Want to Know You by Kay Arthur, and many of the points I am making here are taken from what I learned from her.

Read Genesis 16 and pay special attention to Hagar's point of view."

Genesis 16
1 Now Sarai, Abram's wife, had not been able to bear children for him. But she had an Egyptian servant named Hagar. 2 So Sarai said to Abram, "The Lord has prevented me from having children. Go and sleep with my servant. Perhaps I can have children through her." And Abram agreed with Sarai's proposal. 3 So Sarai, Abram's wife, took Hagar the Egyptian servant and gave her to Abram as a wife. (This happened ten years after Abram had settled in the land of Canaan.) 4 So Abram had sexual relations with Hagar, and she became pregnant. But when Hagar knew she was pregnant, she began to treat her mistress, Sarai, with contempt. 5 Then Sarai said to Abram, "This is all your fault! I put my servant into your arms, but now that she's pregnant she treats me with contempt. The Lord will show who's wrong—you or me!" 6 Abram replied, "Look, she is your servant, so deal with her as you see fit." Then Sarai treated Hagar so harshly that she finally ran away. 7 The angel of the Lord found Hagar beside a spring of water in the wilderness, along the road to Shur. 8 The angel said to her, "Hagar, Sarai's servant, where have you come from, and where are you going?"  "I'm running away from my mistress, Sarai," she replied. 9 The angel of the Lord said to her, "Return to your mistress, and submit to her authority." 10 Then he added, "I will give you more descendants than you can count." 11 And the angel also said, "You are now pregnant and will give birth to a son. You are to name him Ishmael (which means 'God hears'), for the Lord has heard your cry of distress. 12 This son of yours will be a wild man, as untamed as a wild donkey! He will raise his fist against everyone, and everyone will be against him. Yes, he will live in open hostility against all his relatives." 13 Thereafter, Hagar used another name to refer to the Lord, who had spoken to her. She said, "You are the God who sees me."  She also said, "Have I truly seen the One who sees me?" 14 So that well was named Beer-lahai-roi (which means "well of the Living One who sees me"). It can still be found between Kadesh and Bered. 15 So Hagar gave Abram a son, and Abram named him Ishmael. 16 Abram was eighty-six years old when Ishmael was born.

"Hagar was used and then mistreated so badly that she ran away to the wilderness.  Have you ever felt used, thrown away, no longer needed or wanted?  Alone? Rejected?  Inadequate? Do you wonder what you could have done differently?  Behaved better? Somehow been more?

I think Hagar must have had some of those very thoughts and struggles, but I love how God responds to her in her situation.

1. God was with her and sought her out:  Verse 7 says, "The angel of the Lord found Hagar beside a spring of water in the wilderness." God is omnipresent and aware of everything-every detail- of what is going on in our lives. He saw every moment of what was happening to Hagar.  These circumstances were no surprise to Him.
2. God called her by name:  Abram and Sarai only addressed her by the word servant, but God called Hagar by her name.  God is the creator of the entire universe, but He knows your name and wants you to know Him personally!  Isn't it nice when someone remembers your name?  It makes you feel like you matter to them and that they notice you- see you.  Well, we matter to God and He sees us and cares about us just like He showed Hagar.
3. God told her to go deal with her issues: When problems occur in my life, I like to try to ignore them, bury them, push them away, metaphorically plugging my ears and shouting, "lalalalalala! I can't hear you!"  But- whether I like it or not, the problem is still there and needs to be dealt with.  God showed concern and care for Hagar, but He still held her to doing what was right and told her to face her problems.
4. God gave her a promise:  Just like He gave Abram a promise, God promised Hagar that she would have more descendants than she could count!  God blessed her even in her brokenness.  He showed her that she had value, purpose, and a promise for her life. He showed her that her life wasn't over.

In response Hagar calls God, El Roi.  She says, "You are the God who sees me!"  She felt seen.  You know that phrase "I feel so seen." It means I am so glad that someone understands me! 

I know God saw everything happening to me as I was growing up with the pain of feeling thrown away, and I know He was with me through it all.  Psalm 139 reminds us that there is nowhere that we can go where God isn't."

Psalm 139:1-12
1 O Lord, you have examined my heart and know everything about me. 2 You know when I sit down or stand up. You know my thoughts even when I'm far away. 3 You see me when I travel and when I rest at home. You know everything I do. 4 You know what I am going to say even before I say it, Lord. 5 You go before me and follow me. You place your hand of blessing on my head. 6 Such knowledge is too wonderful for me, too great for me to understand! 7 I can never escape from your Spirit! I can never get away from your presence! 8 If I go up to heaven, you are there; if I go down to the grave, you are there. 9 If I ride the wings of the morning, if I dwell by the farthest oceans, 10 even there your hand will guide me, and your strength will support me. 11 I could ask the darkness to hide me and the light around me to become night— 12 but even in darkness I cannot hide from you. To you the night shines as bright as day. Darkness and light are the same to you.
"Whatever is happening in your life right now – God sees it, and He cares about you!  He has seen every moment of your entire life!  His hand is there to guide you and His strength there to support you (Psalm 139:10). You can know God as El Roi, too, the God who sees you!"