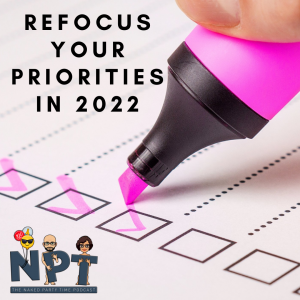 New Year's Resolutions are really about refocusing your priorities. That's what Sabrina, and I just took a day to do last week, and it's part of what we talk about in Episode 033 of the Naked Party Time Podcast.
It might be 2022 already, but it's never too late to take some time, sit down, and review the previous year, refocus your priorities, and reorder your life around those priorities.
If you're married, we suggest setting some priorities and goals for the year in four major categories: Relational, Family, Financial, and Bucket List goals.
We have several goals in each category, but here is one from each.
Relational — Recognizing that we are not great at intentional physical touch (we both score VERY low on that in the love language test), we made a goal to have at least one deliberate touch each day designed for extended connection (sexual or non-sexual).
Family — Doing one big family event/outing each quarter has worked great for us, so we continue to prioritize that each quarter this year. Top Golf is on everyone's list to try again!
Financial — One of my bucket list goals I made years ago was to help each of our kids fund their emergency savings accounts if they get married or as a young adult. So with @ getting married in February, we told her and @ that we would match up to $2500 they save during the first year of their marriage.
Bucket List — Every year, Sabrina and I try to accomplish at least one item on our bucket list. Usually, we get more than one done. This year we are ambitious and have 8 on our list. 1 is to write the 2nd of 3 Family Christmas books called "The Merry Mule." This one is told from the perspective of a donkey at the nativity.
What are some of your goals? Do you have some? Don't just make resolutions; review the previous year, refocus your priorities, and reorder your life around them.
Check out Episode 033 of the podcast for some tips and tricks. If you haven't yet, you can watch or listen to the podcast on YouTube, iTunes, Spotify, Anchor, or right here by clicking below.
Please subscribe, like, rate, review, and share to help spread the love. 
If this podcast has impacted you in a positive way we'd love to hear about it. Please reach out to us on social media or you can email us at hello@jeffmaness.com.