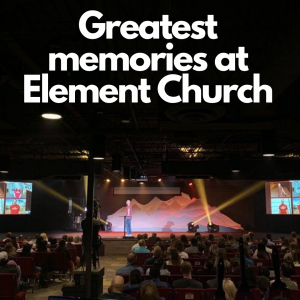 Yesterday, I posted the emotion I felt the most as we approached our final Sunday at Element Church. Today, I want to share one of my greatest memories.
It's hard to pick just one memory from the last 14 years. Every baptism, specifically baptizing my best friend Todd, is right there at the top.
So many of the outreach events like the gas buy down or back to school bash rank right up there. The Church Has Left The Building on Easter Sunday during the pandemic lockdown of 2020 might be my favorite outreach we've ever done.
Different sermon illustrations stand out. Preaching from a coffin, inside a giant hamster ball, using my twin brother to fool everyone, and so many others that helped us communicate the Gospel in different ways.
The one memory that keeps coming back to me, though, is launch Sunday on October 7th, 2007.
After 18 months of preparation, dreaming, planning, and praying like crazy, Element Church held its first public service for the community.
We started in the former Carmike Theater at Frontier Mall here in Cheyenne, and we had no idea what to expect. We had done everything in our power to serve the city and communicate that we were starting. (I have some pictures from that day, but they are all safely stored on a hard drive that is packed and ready to be put onto the moving truck in a warehouse somewhere)
What happened that first Sunday was so much more than I ever expected. Here is a portion of what I posted on my blog after launch Sunday:
I am absolutely BLOWN AWAY. As I stood next to our equipment trailer with tears running down my face, I was amazed at how a dream that was born in our hearts was now a reality. Today, seriously, could not have gone ANY better. I am truly amazed. Check this out.
– Total attendance 200. That's right. 200 people came to our opening service.
– We had 153 adults in the worship center and the rest were kids or volunteers in E:KIDZ.
– I just responded by email to 31 first time guest connection cards. 31? Are you kidding me?
– Five people crossed the line of faith today and became followers of Jesus. THAT is worth it all. I counted around 9 who raised their hands today and said they received Christ and 5 of them marked that on their connection card.
– The Spirit was very heavy today. The band was absolutely SMOKIN' and totally led us into the presence of God today. The energy in the room was amazing. To see the place full was AWESOME!
– The lobby was packed with people before and after the service talking and hanging out.
– Our volunteers were out of this world today. They adapted to the busyness of what was going on and totally stepped up their game.
I am absolutely wiped out. I got a power nap in today but my mind was racing so much it was hard to even eat after service. I am exhausted.