Element Church: Volunteer Of The Week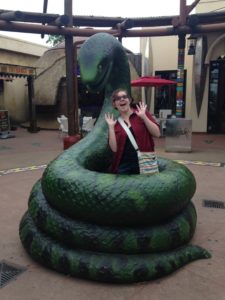 Hey Element Church! Meet Kelsey, this week's Volunteer Of The Week. Kelsey was nominated by Brendan, our Youth Pastor who said this: "Kelsey is a Jr. High Fusion leader. She likes to work in the snack shack because she thinks she's shy but she talks to more students every night than anyone else! Her heart for students is inspiring and she connects with them in such an easy way! I love having her on the team."
Kelsey has been attending Element Church for about a year. She works as a bather at Nirvana Pet Spa, and enjoys watching TV, spending time with friends, and drawing.
When asked why she serves at Element, she said this, "I serve because it makes me happy to work with kids and see how they can grow and mature in their walk with Christ. There is never a dull moment, and it always puts a smile on my face."
Kelsey, it puts a smile on our faces to have people like you on our team!  Thank you for all you do. It Matters!