Element Church: Volunteer Of The Week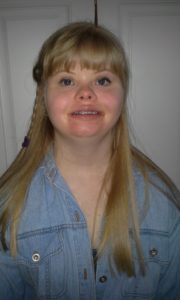 Hey Element Church! Meet Jaiden, this week's Volunteer Of The Week. Jaiden was nominated by Stephanie, our e:kids director who said this: "Jaiden is a teen helper in the Explorers classroom and loves to be with the little kids. Jaiden just turned 17 and is always a joy to be around. Her heart is enormous as well as her love for God and her family. She brightens the e:kids team and we are so very blessed to have her."
Jaiden has been attending Element for 7 years with her mom, dad and 2 brothers. Her dad and brother help with the parking team and her mom helps with check-in. Jaiden attends East High and is in 11th grade. She likes to color and make rubber band bracelets.
When asked why she serves at Element, Jaiden said, "I serve because I want to connect with God for all He's done for me with giving me my family. Serving makes me feel happy and excited."
Jaiden, you are awesome!  Not only are you connecting to God when you serve but you are helping other people connect to God as well.  You say that serving makes you feel happy and excited but we are also so happy and excited to have you on the team with us!  What you do MATTERS!