Element Church: Volunteer Of The Week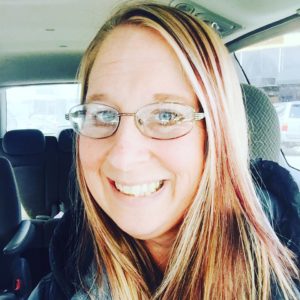 Hey Element Church!  This is Kim and she is this week's Volunteer Of The Week.  Eiron, who is our assistant in Community and Outreach, said:  "Kim helps leads a community group here at Element Church called 'Balance'.  Through this group she is lifting, encouraging and helping women find the balance (Mind, Body and Soul) in life. Kim has a heart for serving and helping people. Element is lucky to have her leading this group and helping people live life to the fullest in Christ."
Kim has been attending Element with her husband and three children for 7 years.  Her husband serves as a Community Group leader as well.  Kim is a teacher in the Laramie County School District and enjoys reading, running, relaxing and Starbucks!
When asked why she serves at Element Church, Kim said:  "I serve as a community group leader to a group called Balance. I didn't even realize this was considered volunteering! I lead this group because I love connecting with other women. I enjoy fostering relationships and being real and vulnerable in a Christ centered environment. Plus we have a lot of fun! If I'm honest I get way more out of this group and these amazing ladies than I put in it."
Kim, thank you for what you do!  This is a much needed group and God is using you to make a difference.  What you do MATTERS!