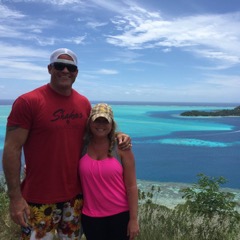 Hey Element Church!  Meet Jared!  Jared is this week's Volunteer Of The Week!
Jared has been serving as an Ignite teacher in eKidz for over a year now.  Stephanie, our eKidz director said, "When he teaches, he is able to communicate the lesson so that the kids are engaged and learning.  He takes serving in eKidz very seriously.  His desire for the kids to understand and know God and to be better people is unmatched."
Jared has been attending Element since the summer of 2010.  His wife and her two children also serve and attend.  He said, "I was a changed man after my first service. I walked out crying and realizing there was better way and that Element was my home. That is when I opened my heart to God. He has been with me and working on me ever since."
Jared is a chiropractor at Laramie County Chiropractic.  He loves spending time with his family, reading, exercising and paying sports.
When asked why he serves at Element, Jared said:  "My journey with God lead me to become a teacher in E:Kidz! A little over a year ago, I began to realize that church is not only a place to attend but should also be a place to serve. God gave me a gift with children. I seem to make them happy and they bring out the best in me. For those reasons, E:Kids seemed to be the best place for me to serve. When I first started teaching, I thought I would be the one helping them. What I've realized is I'm also there to learn from them. I walk out of each class a better man and closer to God because of all the amazing kids. I am honored and blessed to be their teacher!"
Jared, we are honored and blessed to have you teach our kids here at Element Church!  Thank you for doing what you do.  It Matters!