Element Church: Volunteer Of The Week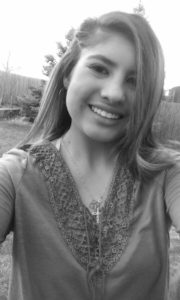 Hey Element Church! Meet Natalie, this week's Volunteer Of The Week. Natalie was nominated by our Creative Arts Pastor, Jared, who said this: "Natalie is probably the most responsible 16 year old I've ever met. She works so hard and serves with such joy, humility and kindness far beyond her years. Not only is she a super talented drummer, she's also learning to play bass and is progressing well at that too. Natalie will be a great leader because of her heart to serve God in everything she does. We are so thankful for her and her family and all they do for Element!"
Natalie has been attending Element for 6 years with her mom, dad, brother, and sister. Her dad is currently deployed, but has volunteered for the youth group on Wednesday evenings. The rest of her family volunteers in the e:kidz ministry. She likes playing music including drums for the past 4 years, and she is now learning the bass and piano.
When asked why she serves at Element, Natalie said, "The reason I serve at Element is because it gives other people the opportunity to find life in Christ. Ever since my walk with God, it feels as if a void has been filled within my soul and I want other people to experience the same wondrous feeling. Serving makes me feel as if I'm making a difference in someone's life. I feel excited, passionate, inspired, and determined to build God's kingdom. In Psalms 116:8 it reads, 'For you, Lord, have delivered me from death, you stopped my tears, and you kept me from falling.' This verse reminds me of all God has done for me, and the least I can do is serve him in his kingdom."
Wow Natalie!  You are such an inspiration.  Thank you for leading the way to us adults as a young person who is passionately pursuing Jesus!  You are a blessing to have on our team and are definitely making a life giving impact in peoples lives.  What you do MATTERS!