Element Church: Volunteer Of The Week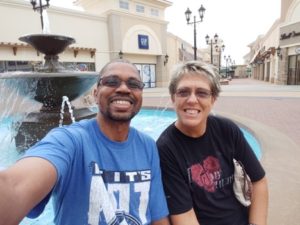 Hey Element Church! Meet Scottie, this week's Volunteer of the week. Scottie was nominated by Kristina, our Guest Services Director who said this: "Scottie is one of the leaders for the 8:30 am Hospitality team. He is very dependable and has often come in to help on his off weeks. Scottie always has a smile and does a great job leading his team simply by being his genuine self. He has a very generous heart and is a hard worker and it is a pleasure to serve alongside him."
Scottie has been attending Element for 6 years. His wife Stephanie and mother-in-law Rita Oldham also serve as Ushers. He is an Air Force Retiree of 20 years. He currently works at the VA as the lead cook for all in-hospital patients, chemo, long term residence, and hospice care residents. He enjoys time with family…watching movies and sports…and any and everything Ohio State Buckeyes related and occasionally Oklahoma Sooner (wife).
When asked why he serves at Element Church, Scottie said, "I serve at Element because my wife said we need to get more involved and I said, 'You first!' because she is always reluctant to do outside her box stuff! She did, so I followed, and the rest is history in the making."
Scottie, we are so thankful for your service to God through Element! The hospitality team does such a great job welcoming people and setting up our home for their arrival. What you do MATTERS!