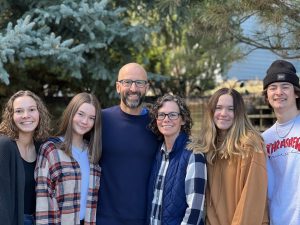 Meet the Maness Family! 
After being introduced as the next Senior Pastor of The Harbor in Friendswood, TX, this last Sunday, I figured we might have a couple of new followers or some people curiously checking us out online.
My name is Jeff Maness! My wife is Sabrina.
We have been married for 24 years (June 21st, 1997) 
We have four exceptional children and are welcoming our first son-in-law, Caleb, in February.
From left to right in the family picture, Mariah (18), Jaydah (15), Jeff, Sabrina, Makalah (17), and Jonah (20). Jonah, Makalah, and Jaydah moved with us to Texas. 
I am a twin, and I'm told we look a lot alike. His name is Jeremy. 
I am an Oklahoma Sooner fan. I'm Sooner born and Sooner bred, and when I die, I'll be Sooner dead. (Yes, that's an actual saying) BOOMER SOONER! 
Sabrina and I love taking adventures, exploring new areas and things, kayaking, camping, enjoying a good movie or tv show, and spending time at home with our family and friends. 
We are both introverts who cherish the deep friendships and community God gives us in life.
If you're into the Enneagram, I'm an Enneagram 1 with a 9 wing. Sabrina is a 9 with a 1 wing. (If you know, you know. If not, it's okay. It's a personality profile that we love using) 
Sabrina and I started a podcast 18 months ago and post new episodes monthly. It's called The Naked Party Time Podcast. Listen to Episode 000 to learn more about the origin of the name.
I am passionate about leading people to experience the full life Jesus promised in John 10:10. 
Preaching, leading, and writing is what I feel called to do. 
I've written five books, the latest being a children's book my daughter Makalah illustrated. It's called "How Much Does God Love You?"
We are committed to following the call of God in our lives and the story of how God brought us to The Harbor is a testimony of His Sovereignty and care for our lives. 
While we are beginning our time in Texas on a sabbatical, we are so excited to get working alongside the great people of The Harbor as we introduce people to Jesus and help them become fully devoted followers of Him. 
The Harbor has been and will be a place where Jesus restores the battered and broken, refuels the weary and worn, and where we return to our lives with Jesus at the center, changing the world, one life at a time.
We already love you, Harbor peeps! We cannot wait to see all of you in person.