Element Church: Volunteer Of The Week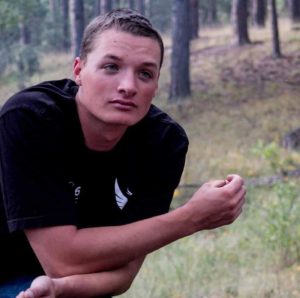 Hi Element Church! Meet Riley, this week's Volunteer of the week. Riley was nominated by Kristina, our Guest Services Director, who said this: "Riley plays an intricate role on the First Impressions team. From parking set-up every week, to the flex team at 2 different services every other week, to leading the 11:30am parking team each week, he serves with an amazing heart for God and His church. He is literally at the church serving for roughly 6-7 hours, every Sunday and comes back at the 6:00pm service to attend. I have never once questioned whether or not Riley will be here. He is a man of his word and highly committed. Plus, he serves in other areas of the church and is just as dependable there as well. Riley is often found giving people rides to church, encouraging those around him and truly loves discipling others. It is an absolute honor to serve alongside him. Thank you, Riley, for everything you do!"
Riley has been attending Element Church for 5 years. He is employed by the United States Air Force as a Missile Maintainer and enjoys spending time with his girlfriend, traveling, going to Electronic Dance Music festivals/concerts, playing games, serving his community, anything outdoors, camping, hiking and snowboarding as well.
When asked why he serves at Element, he said, "I serve at Element Church because I believe in discipleship. Everyone deserves to know that our Heavenly Father loves them. So if I can show that by serving and preaching the Gospel to others so they can experience His love, then I will.
Every Sunday I am filled with absolute joy. Setting up parking in the morning is a struggle sometimes, but as soon as I walk through our church's doors I feel at home and am greeted/filled by such incredible people. I wouldn't want to be anywhere else on a Sunday and I truly mean that. Element Church is one of a kind and I am entirely to blessed to be a part of it."
Riley, I'm pretty sure we are the ones who are blessed to have you be a part. You are such an inspiration and encouragement. Thank you so much for all the areas you serve. What you do MATTERS!