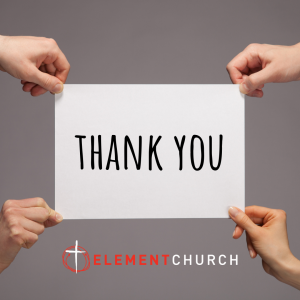 Thank You, Element Church!
Thank you doesn't seem like enough in moments like these, but it's the only words we have in the English language.
T = Transparency – Thank you for allowing me and my family to be transparent. You've let us be people first, then pastors.
H = Home – Thank you for accepting us into your home. One of Element's core values is "A place to call home." You've been ours for 14 years.
A = Acceptance – Thank you for the way you accepted others just as they are. You led the way in welcoming the last, the lost, and the least into your midst. It's been awesome to watch.
N = New – Thank you for how you followed me into new things so many times. You were always ready to pursue the vision God gave us each step of the way.
K – Kindness – Thank you for the way you modeled kindness to the community. If Element was known for anything over the last 14 years, it was known for the kindness and generosity YOU displayed each day.
Y = Yearning – Thank you for your genuine yearning for God through worship and His Word. You always leaned into His presence and desired more of Him.
O = One – If only for the ONE! Thank you for your unwavering commitment to this core value. You were willing to do all you could to reach as many as possible, celebrating each ONE!
U = Unity – While there hasn't always been a total agreement, there has been an alignment toward a common goal. Thank you for your pursuit of unity in the Body of Christ, primarily through this transition.
There are many more things to be thankful for, but those are a few at the top.
The best is yet to come, Element!
Thank you, and I love you!
Til the end – Pastor Jeff