Element Church: Volunteer(s) Of The Week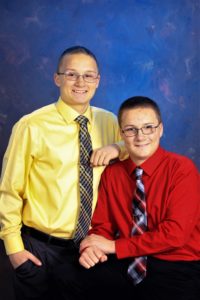 Hey Element Church! Meet Chase & Conner, this week's Volunteers Of The Week. Chase & Conner were nominated by our Lead Producer, Taylor who said this: "Chase and Conner have been a huge help filling in over the past months. They are always willing to help me with backstage stuff or to run camera or graphics. If you are ever wondering how the pulpit just appears out of thin air on stage while Pastor Jeff prays, it is most likely one of these two that make it happen. Even on weeks they are not serving, they usually find me and ask if I need help with anything. We are better for having them around!"
Chase & Conner have been attending Element Church for about a year with their uncle, aunt and 2 cousins. Chase likes drawing (cars & crosses), football & track. Conner likes basketball, football and working on the Tech team.
When asked why these brothers served at Element, Conner said, "I like to serve at Element because it makes me feel good to help and serve the Lord. I have great friends and role-models that I serve with." And Chase said, "I serve because I like working with the Tech staff and everyone on the Tech team. Everyone on the team makes me feel great because I can be trusted to help with the services."
Chase and Conner, you guys blow me away!  I am a better leader because you are on the team.  Thank you for what you do.  IT MATTERS!