Element Church: Volunteer Of The Week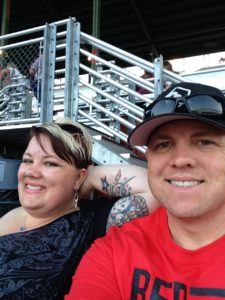 Hey Element Church! Meet Jay, this week's Volunteer Of The Week. Jay was nominated by Steve, your Community Pastor, who said this: "Jay is an integral part of our Safety Team here at Element and we are all a little bit safer when he is on the watch. I am very grateful that he is on this team. More than that though, I would like to say that Jay is one of the most giving people I have ever known. He loves to give in generous and unique ways through the local church. Jay started joining OneReach feeding and serving the street and homeless population about a year ago. He dedicates himself to these people through his service and I am proud to have him on the team."
Jay started attending Element Church in the Spring of 2009 with his wife Jessica who serves with e:kids and daughter Emily. He is a Project Manager for a property management and accounting software company and also an officer with the Kansas Air National Guard. He enjoys shooting sports and being in nature, camping with his family and going on long drives.
When asked why he serves at Element, Jay said, "I serve at Element because I'm designed to serve, because filling a need is one of the best feelings in life. To keep people safe and to get someone where they need to go helps make the worship experience that much more inviting. I love being part of this family and watching it grow and continue reaching more people. I enjoy being part of One Reach because we can immediately impact the lives of people in ways they may not experience anywhere else. People come to seek Christ because we are blessed with the generosity of our community and church body to love on people who lack many things we take for granted, and to serve them so that they know they're loved and not forgotten, that God cares for them and has a plan for us all. That's why my family calls Element home. We love our church!"
Jay, we love having you on our team and love having your family in our church!  Thank you so much for what you do.  IT MATTERS!