Element Church: Volunteer Of The Week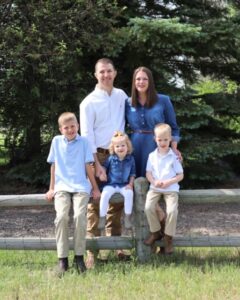 Hey Element Church! Meet Sarah, this week's Volunteer of the week. Sarah was nominated by Lesley, our Children's Ministry Assistant, who said, "I have had the honor of serving alongside Sarah in our Pathfinders classroom for the past few months and she has been an incredible part of the success of our new curriculum.  Sarah prides herself in coming each week prepared and ready to wrangle 50 to 60 preschoolers while always being full of energy and excitement.  She is never afraid to be silly, and engage kids on their level.  This past October, Sarah was our own personal Wonder Woman, as she dressed up to teach kids that God helps us to be brave, and with the help of Joshua 1:9, she led the kids in telling 'Fear! Get out of here!'  We are so blessed to have an incredible volunteer like Sarah, who loves our kids here at Element and is dedicated to helping each and every young child discover their love for Jesus."
Sarah has attended Element for about 1 year with her husband Adam, who leads a military small group, their oldest son (10) who loves attending Summit and their two youngest children (5 and 2) who have a blast being a part of Pathfinders! She is a former teacher turned homemaker and Independent Team Leader with Color Street who enjoys spending time with her husband and family, baking (especially cakes and cupcakes), music, organizing, reading/writing, and coffee!
When asked why she serves here at Element Church, Sarah said, "God has given me a love for children and a passion for teaching. Therefore it is such a blessing and joy to get to serve in E:KIDZ! Little ones need to know that God loves them and cares about them. Children this age can learn these truths that will stick with them their entire lives and lay a foundation for them to grow in their faith. I am so amazed at seeing these 2-5 year olds learning and understanding God's Word. I am overjoyed to see them excited and worshiping God! I am thankful to get to know the kids and their families. It is not always easy with these young busy children, but I am so grateful to have the opportunity to pour into their lives and hopefully show them the love of Christ!"
Sarah, we are so blessed to have you using your gifts to serve God through Element Church. You are making an impact by leading kids to experience life in Christ! What you do MATTERS!