Element Church: Volunteer Of The Week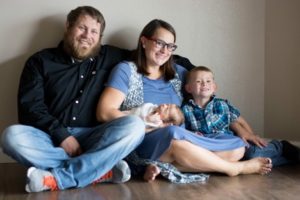 Hey Element Church! Meet Rachel, this week's Volunteer of the week. Rachel was nominated by John, our Children's Pastor who said this: "Rachel serves in one of the most essential ministries in Element Church: The Tank (a room just for kids of volunteers). Because Rachel watches over the children of volunteers on Sundays, our volunteers are free to attend one service and serve another. The Tank can be a tiring and sometimes crazy place to volunteer, but Rachel faithfully serves to show kids the love of Christ. Thank you so much for all you do!"
Rachel has been attending Element Church for 5 years along with her husband, Robbie, her 3-year-old son, Cayson, and her 7-week-old son, Brydger. She serves in The Tank as a part of the E:KIDZ ministry and also helped take photos at the Night To Shine event. Rachel is a special education teacher at Baggs Elementary School. She enjoys photography, volleyball, and spending time with her family.
When asked why she serves at Element Church, Rachel said, "When one of my friends approached me about serving in the Tank, I decided it was a great way to get more involved. I love that my sons get to be with me and see me working in the church. I want my boys to be able to see the impact that God has in our lives and the importance of being willing to listen when he calls you somewhere or to do something like serving."
Rachel, your boys, and many other people are seeing the lasting impact you are making in the lives of our families. Because you serve, volunteers are able to make an impact in their service as well. It is a win-win for sure! Thank you for what you do. IT MATTERS!