Element Church: Volunteer Of The Week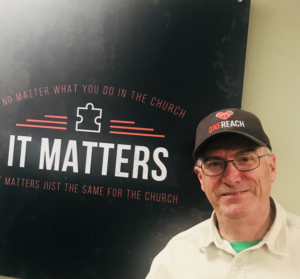 Hey Element Church! Meet Dave, this week's Volunteer of the week. Dave was nominated by Eiron, one of our Pastoral Assistants who said this: "Dave has been the key volunteer behind starting up and organizing the Food pantry here at Element Church. Dave also volunteers for Salvation Army food kitchen! Dave does not do any of this to shine light on himself but to show the love of Jesus. Thank you Dave for your service and leadership at Element Church!"
Dave has been attending Element Church for 3 years. After trying different churches when they first arrived in Cheyenne, Element was where he felt the Spirit move for them. His wife Linda, serves in a small group called Starting Point and at Guest Services on Sundays. Dave is currently retired from the medical field as an x-ray tech. He likes to fish, camp and collect Lincoln pennies.
When asked why he serves at Element, Dave said, "I like to be a part of doing good things and showing the love of God through service. Serving makes me feel I'm doing God's work when I feed the hungry or help provide clothing. I like to be a good neighbor."
Dave, you are a great neighbor and I'm so glad that you are serving God and others here at Element.  Thank you for all you do. IT MATTERS!